Organizational Network Analysis of Referrals for Adolescent Girls and Young Women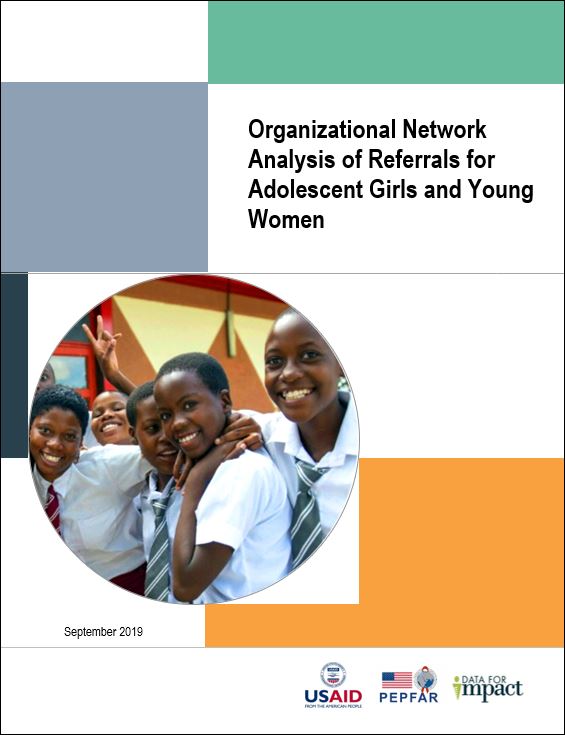 Citation: Weaver, E., Markiewicz, M., & Wilson, C. (2019) Organizational Network Analysis of the Adolescent Girls and Young Women Referral Network. Chapel Hill, NC, USA: Data for Impact
Abstract: HIV prevalence in Botswana is higher for females than males between the ages of 15–24 (Statistics Botswana, 2013). Gender-based violence (GBV) is also a risk factor for HIV infection among women. The majority of young people do not have correct and comprehensive knowledge about HIV (Joint United Nations Programme on HIV/AIDS [UNAIDS], 2018). At-risk adolescent girls and young women (AGYW) may have low access to HIV-testing services (HTS), and many do not know their HIV status (United States President's Emergency Plan for AIDS Relief [PEPFAR], 2017). The Determined, Resilient, Empowered, AIDS-free, Mentored, and Safe (DREAMS) program, a public-private partnership, is being implemented by the United States Agency for International Development (USAID) in two districts of Botswana to address the structural drivers that increase AGYW's HIV risk, including poverty, gender inequality, GBV, and a lack of education.

To support the implementation of DREAMS activities in Gaborone and Kweneng East, USAID contracted Data for Impact (D4I), which is funded by USAID and the United States President's Emergency Plan for AIDS Relief, to conduct a mixed-methods study in these districts to learn more about referral networks that provide AGYW with DREAMS-related services. D4I conducted an organizational network analysis (ONA) to map the referral network in use by DREAMS partners that provide the following services: HIV and GBV prevention, HIV testing, condom distribution and other family planning (FP) services, pre-exposure prophylaxis (PrEP), contraceptive services, post-GBV care services, and socioeconomic interventions. D4I also explored knowledge and preferences of AGYW about five key services—HIV testing, condoms, FP, PrEP, and post-GBV care—through focus group discussions (FGDs) with a participatory mapping process.

Results from the ONA and FGDs with AGYW point to the need for increased connection between organizations in these service areas. A majority of referrals for HIV-related services were from a small number of facilities and organizations. Facilities and other service sites reported the frequency of interacting with other organizations between never and 1–3 times per month for client referrals and exchange of resources and information. Service gaps were identified for certain types of contraceptives and for nonclinical post-GBV services in facilities that provide youth-friendly services (YFS).

AGYW relayed preferences for facilities and service sites outside of the DREAMS network. They expressed a preference for receiving services that were convenient and near to their homes. They also emphasized the need for extended service hours and friendly, trustworthy staff. AGYW in both districts had mixed impressions about post-GBV services and did not know where they could obtain PrEP.

This study sought to map the existing referral networks for AGYW in two districts in Botswana where DREAMS services are being provided. It also sought to learn about AGYW preferences for these services. Results and recommendations, with input from stakeholders, point to several areas that provide opportunities for strengthening referral linkages and filling service gaps for DREAMS services. AGYW preferences reinforced earlier research indicating key areas of importance for them. Key results include:

- A limited number of referrals are occurring between Safe Spaces and YFS.

- YFS are not using most of their known network and they have few shared connections.

- Service gaps for some contraceptive services and nonclinical post-GBV services were identified among YFS.

- Few YFS or DREAMS implementing partners were named as preferred facilities by AGYW for DREAMS-related services.

- There were gaps in provision of PrEP at YFS. AGYW also weren't sure where to obtain PrEP.

- AGYW reported mixed experiences with GBV service sites and providers.

Results from this study can be used to strengthen referral networks for DREAMS services and align service provision with the preferences of AGYW.
Shortname: tr-19-383
Author(s): Emily Weaver, Milissa Markiewicz, Carolyn Wilson
Year: 2019
Language: English
Filed under:
Adolescent Girls
,
AGYW
,
Botswana
,
GBV
,
Gender
,
HIV
,
HIV prevention
,
ona
,
PEPFAR
,
Report
,
Young Women