D4I's work in Moldova: Using data-informed decisions to protect at-risk children
By Camelia Gheorghe and Katie Kosma, Data for Impact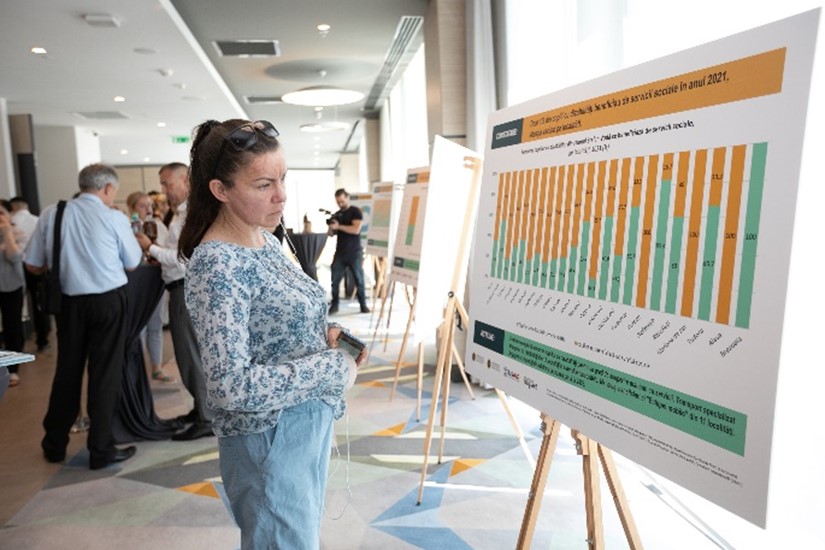 The Republic of Moldova, a landlocked, middle-income country in Eastern Europe, is home to approximately 2.6 million citizens of whom 21 percent are children. Due to persistent poverty, scarce jobs, and low pensions and social benefits, 2,000–3,000 people migrate abroad each year in search of more prosperity. This out-migration results in high levels of family separation—in 2021, approximately eight of ten separated children were children left behind by labor migrant parents.[i] These children were left with grandparents, neighbors, or with no care at all. High rates of alcohol use, domestic violence, stigma associated with disability, and other risk factors also drive family separation, leading to a small but growing number of runaways as well as children placed in institutions.
To improve the lives of these children and reduce the risk of separation, in 2020 the government regulated custody placement (formal kinship care) for children left behind. The government has also partnered with NGOs and international donors to develop preventative and alternative family-type services such as family support and foster care. As a result, an increasing number of children left behind are now better protected and there has been a significant decrease of children living in residential institutions (from 17,000 in 1995 to 685 in 2021).[ii], [iii]
Despite this progress, out-migration remains intense and increasing numbers of children need social services. Additionally, the deinstitutionalization of children with disabilities is progressing slowly. Social services, once financed by the central government, shifted to the local level due to decentralization reform, but rayons (administrative districts) face challenges to keep them functional due to scarce resources. The recent war in neighboring Ukraine has put an additional strain on the country. With almost 45,000 Ukrainian refugee children residing in Moldova,[iv] social protection, education, and health services are overstretched.
In Moldova, Data for Impact (D4I) has embarked upon a project to harness the power of data to improve the lives of children in adversity. Funded by USAID Moldova, D4I is helping to strengthen the capacity of national and sub-national authorities to collect better quality data, analyze it more effectively, and ultimately use that data to make better decisions and improve outcomes for the children who are dealing with an array of adversities.
A key activity within the project involves creating a list of strong indicators that monitor child protection policies and practices at the central and local level. By doing this, D4I helps the Ministry of Labor and Social Protection (MOLSP), the National Social Assistance Agency (NSAA) and territorial social assistance structures (TSAS) apply data evidence to making critical decisions that can improve child protection and care.
Prior to the D4I project, data was primarily used for reporting rather than decision making. Much of the data utilized was poor in quality, and therefore understandably unused by decision makers. In addition, data was available too late to be used in routine decision-making processes.
To improve the availability and quality of data, D4I is developing an automated child protection information system for Moldova, with case management at its core. This system will simplify the process to follow up on children in care and eliminate the need for paper forms, revolutionizing the country's ability to manage data for children in care. Case workers, service managers, and decision makers at the local and central levels will have real-time evidence to ground their decisions, as the system will automatically generate data on various useful indicators.
Child Protection Information System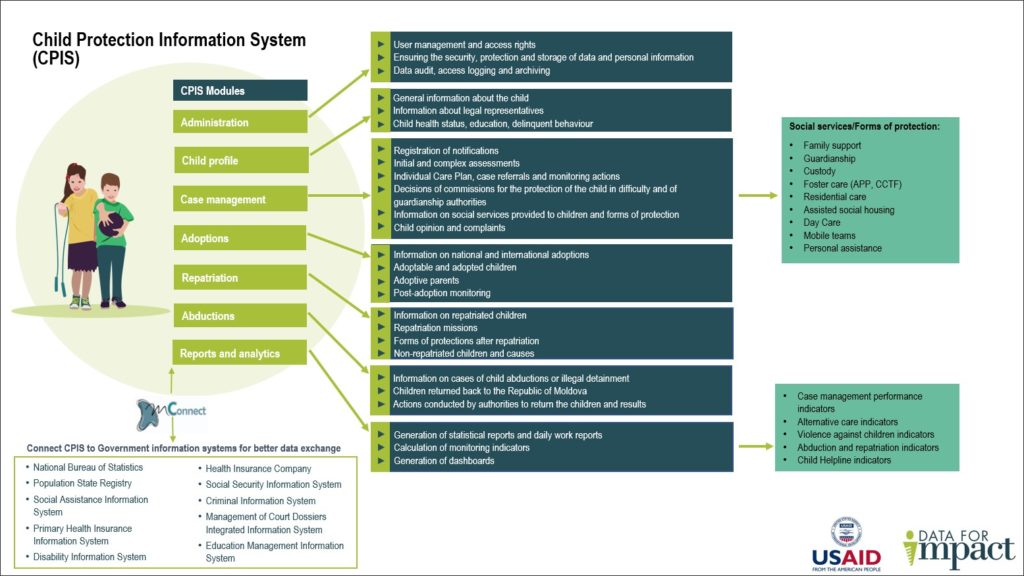 Through CPIS, Moldovan case managers will receive better information about available services, enabling them to make quicker, more informed referrals and improve the overall quality of child protection and care.
D4I has also facilitated regular data review meetings, conducted trainings, and developed resource materials that helped to remove barriers to data use and cultivate a data use culture within the country's social assistance sector.
"Good quality data are important in the context of the development of various policy documents and programs at local level. Data are also important for us, those who work at the central level in the Ministry of Labor and Social Protection, as we are responsible for developing policies in the field of child protection. Strengthening the capacities of local public authorities and territorial social assistance structures by D4I is very important for us because we could later on get from them reliable data and useful information that help us in the development of policies at national level" (Vasile Cușcă, Secretary of State in MOLSP).
D4I is improving data quality and use at several levels within Moldova: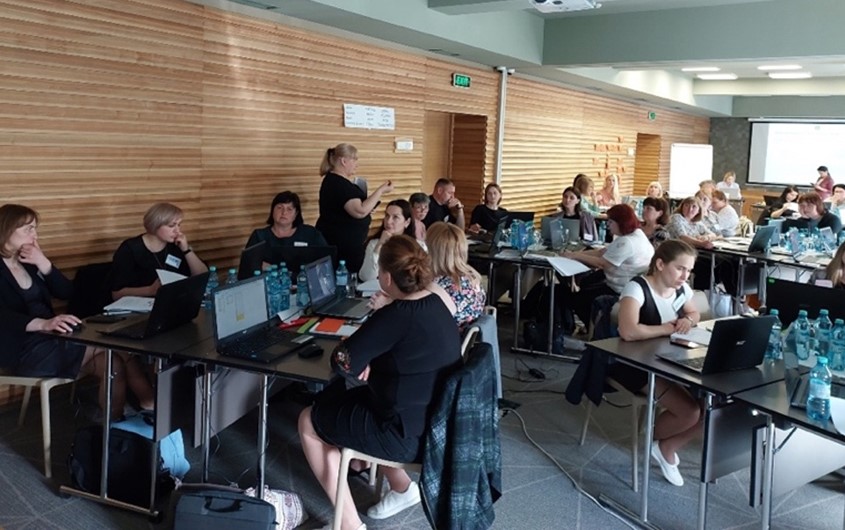 Strategic level: A data use strategy was developed and agreed upon with stakeholders. National and international best practices in data review and use were mapped, disseminated, and reviewed. The teams created a set of 70 national indicators to monitor violence against children, case management performance, repatriation, abductions, and alternative care. These indicators will be captured in CPIS and made available to decision makers in real time.
Implementation level: The team has held 48 data review and use meetings in 12 of 32 rayons, engaging 593 professionals, 69 percent of whom work within middle and top management. Plans to overcome data use barriers were developed. D4I also conducted trainings and provided mentorship in data demand and data use, data analysis and visualization to over 130 MOLSP, NSAA, and TSAS staff members. Two local universities received grants and modernized their regular curriculum by embedding monitoring and evaluation and data use modules. A practical guide on data review and use has been developed and disseminated widely.
Dissemination/Sharing: In partnership with the MOLSP and NSAA, the D4I team organized a Share Fair on good local practices in data use, attended by 60 decision makers. It supported the NSAA and three rayons to produce and disseminate information bulletins with useful findings and solutions implemented from data analysis.
D4I has obtained data use results from 12 rayons and plans to reach all 35 rayons and major municipalities by August 2024. The results obtained from the first 12 rayons are in the following areas: services extended (personal assistance for children with disabilities, custody of children left behind by labor migrant parents), new services set up (mobile team for children with disabilities, integrated community assistance services), strengthened capacities (community social workers and multi-disciplinary teams for prevention of risks and child separation, parents/caretakers for parental skills), and fundraising to develop specialized services for children with special needs.
In 2020–2021, the MOLSP was not convinced that D4I would make a difference in shaping practices and attitudes in data use, so the work began in rayons to prove impact. Once the ministry's buy-in was secured, it asked for D4I's support in conducting an ex-ante assessment of the National Child Protection Program 2022–2026. This effort proved successful, and the ministry has now asked D4I for support in analyzing data on disability and institutionalizing data review. This work will use a specific set of indicators that are followed within the reporting framework of Moldova's accession to the EU and compliance with UN sustainable development goals. D4I has embedded this support into its 2022–2023 workplan.
Developing a data use culture in a country can be challenging, but D4I is up to the task. The lives of children in adversity cannot be improved without providing evidence to inform change from a systems lens—by viewing issues through governance, service provision, workforce, funding, and social norms, D4I is helping to inform better decision making and improve child outcomes.
Camelia Gheorghe, MSc, has more than 25 years of M&E and social development experience in countries of European Union, Western Balkans, Central Asia, Ukraine and Moldova. She has been with Palladium for five years, currently serving as D4I Chief of Party in the Republic of Moldova.

---
[i] Ministry of Labor and Social Protection of the Republic of Moldova, National Bureau of Statistics. Statistical Report no. 103 – Children at risk and children separated from parents.
[ii] Care Reform in Moldova: Timeline of System Achievements. https://www.measureevaluation.org/countries/moldova/care-reform-in-moldova-timeline
[iii] Ministry of Labor and Social Protection of the Republic of Moldova, National Bureau of Statistics. Statistical Report no. 103 – Children at risk and children separated from parents
[iv] The UN Refugee Agency. Republic of Moldova: Daily Population Trends. https://data.unhcr.org/en/dataviz/248?sv=0&geo=680, retrieved September 13, 2022