USE Newborn Data for decisions
These four EN-MINI Tools address USE Newborn Data for decision-making (Figure 5). They are adaptations from the Performance of Routine Information System (PRISM) tools designed by MEASURE Evaluation to comprehensively assess RHIS performance for HIV, malaria, immunization, and antenatal measurement and have been validated through multiple cycles of use. The EN-MINI-PRISM tools adaptations focus on core newborn indicator measurement with ready-to-use digital data collection tools.
Figure 5. EN-MINI Tools: Use Newborn Data for Decisions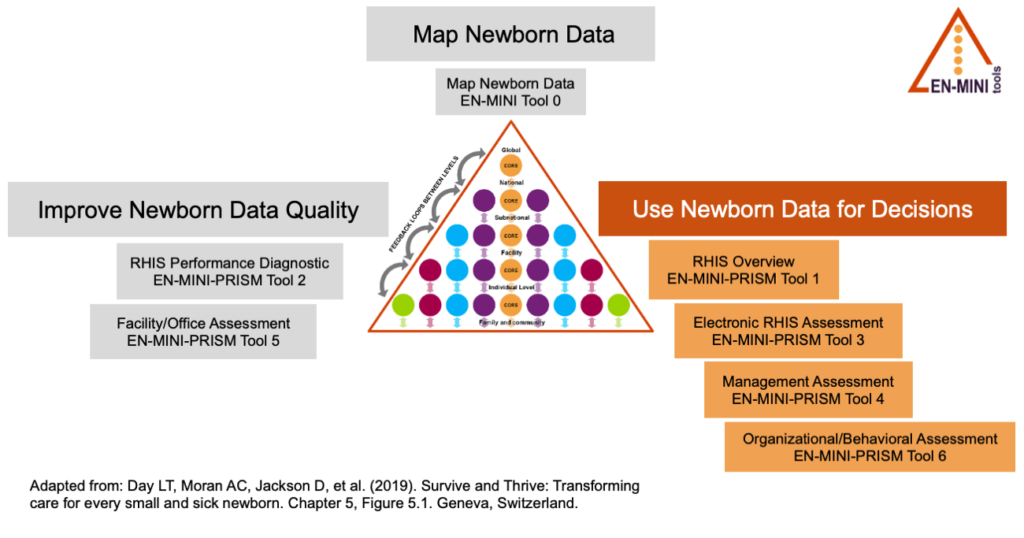 To prepare for digital data collection:
Download the EN-MINI-PRISM training manual and EN-MINI-PRISM training slide set.
Return to the EN-MINI homepage or overview.

EN-MINI tools were produced with the support of the United States Agency for International Development (USAID) under the terms of the Data for Impact (D4I) associate award 7200AA18LA00008, which is implemented by the Carolina Population Center at the University of North Carolina at Chapel Hill, in partnership with Palladium International, LLC; ICF Macro, Inc.; John Snow, Inc.; and Tulane University. The views expressed do not necessarily reflect the views of USAID or the United States government.