The Impact of USAID's Integrated Health Program in the Democratic Republic of the Congo: Baseline Report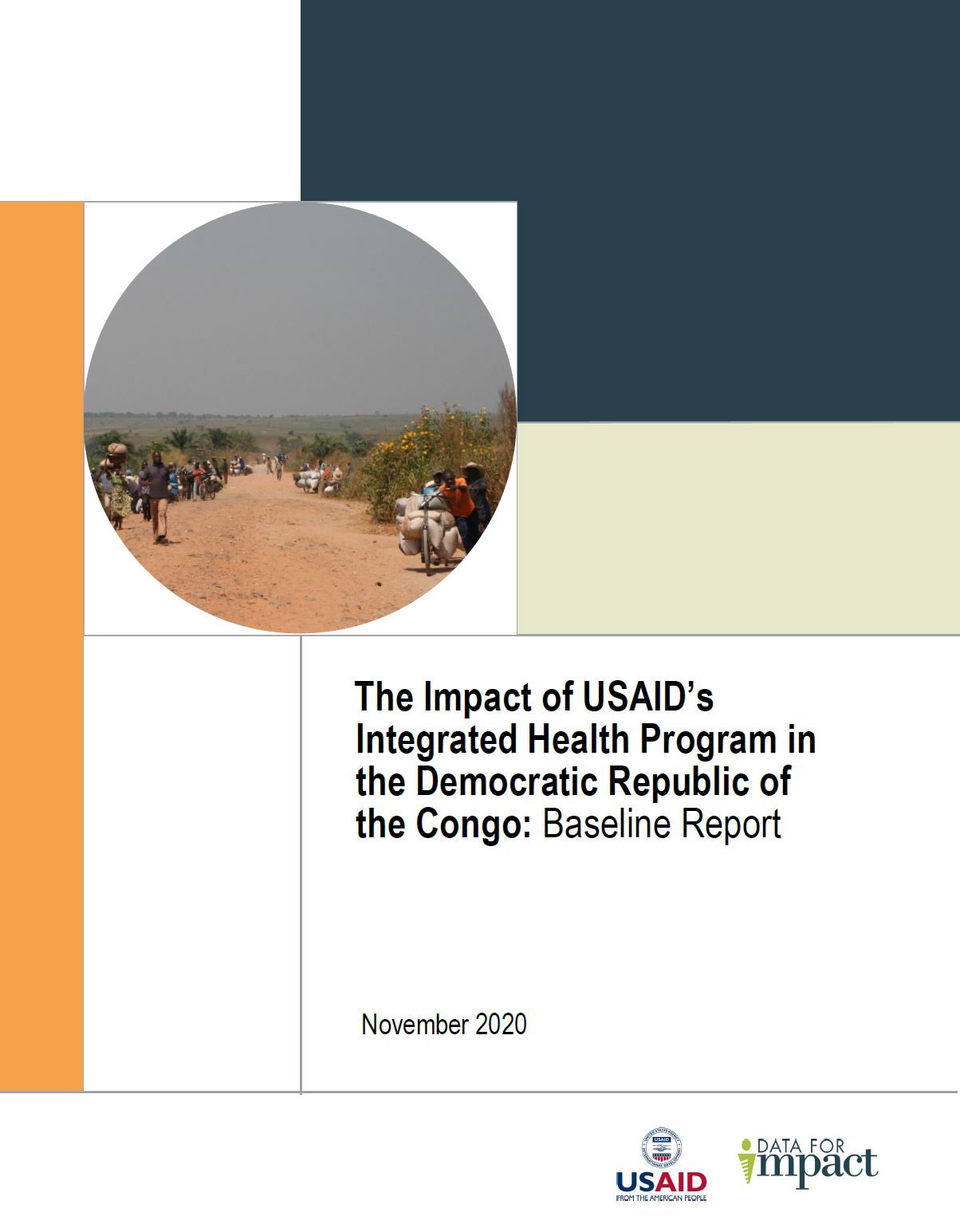 Citation: Data for Impact. (2020). The Impact of USAID's Integrated Health Program in the Democratic Republic of the Congo: Baseline Report. Chapel Hill, NC, USA: Data for Impact, University of North Carolina
Abstract
: Data for Impact (D4I), which is funded by the United States Agency for International Development (USAID), is conducting a performance and impact evaluation of the Programme de Santé Intégré de l'USAID en République Démocratique du Congo (PROSANI USAID), known in English as USAID's Integrated Health Program (IHP) in the Democratic Republic of the Congo (DRC). The evaluation investigates the following issues:
1. Did the expected changes in outcomes and impacts occur?
2. If there were changes in healthy behaviors during the study period, to what extent were these attributable to USAID IHP?
3. Did the project contribute to gender equity in health services and in the health system?
4. What factors enabled or limited the success of USAID IHP?
We report baseline data from three sources: (1) surveys of health facilities and households in USAID IHP-supported areas; (2) routine data from the DRC's routine health information system (RHIS) for USAID IHP-supported areas and a matched control group; and (3) qualitative data collected from representatives of the government health system, implementing staff, and beneficiaries. To assess baseline health behaviors, we analyzed data from the DRC's health information system (which is built on the District Health Information Software, version 2 [DHIS2]) for both USAID IHP provinces and provinces not receiving USAID support.
Results suggest that the government health system faces multiple challenges to effectively plan, implement, and monitor services, including: lack of electricity, cellular communication, and Internet; wide variations by province in the availability of medicines and equipment; limited managerial autonomy; variations in the levels of external supervision; insufficient number of staff; and low levels of health worker satisfaction.
Although many of the health system challenges identified through the study are outside the control of the
project (and are the purview of the government), they are nonetheless critical constraints. Other challenges can be partially addressed through project-supported interventions.
See a report on the midline evaluation
.
Shortname: tre-20-28-d4i
Author(s): David Hotchkiss, Janna Wisniewski, Paul-Samson Lusamba-Dikassa, Lauren Blum, Matt Worges, Charles Stoecker, Eva Silvestre
Year: 2020
Region(s): CONGO, THE DEMOCRATIC REPUBLIC OF THE
Filed under:
baseline
,
Data
,
DRC
,
Evaluation
,
Gender
,
Health Information Systems
,
Health Services
,
Health System
,
IHP
,
impact
,
outcomes
,
RHIS
,
Routine data
,
USAID