Promoting Appropriate Care for Children: Report on a Workshop on Case Management Information Systems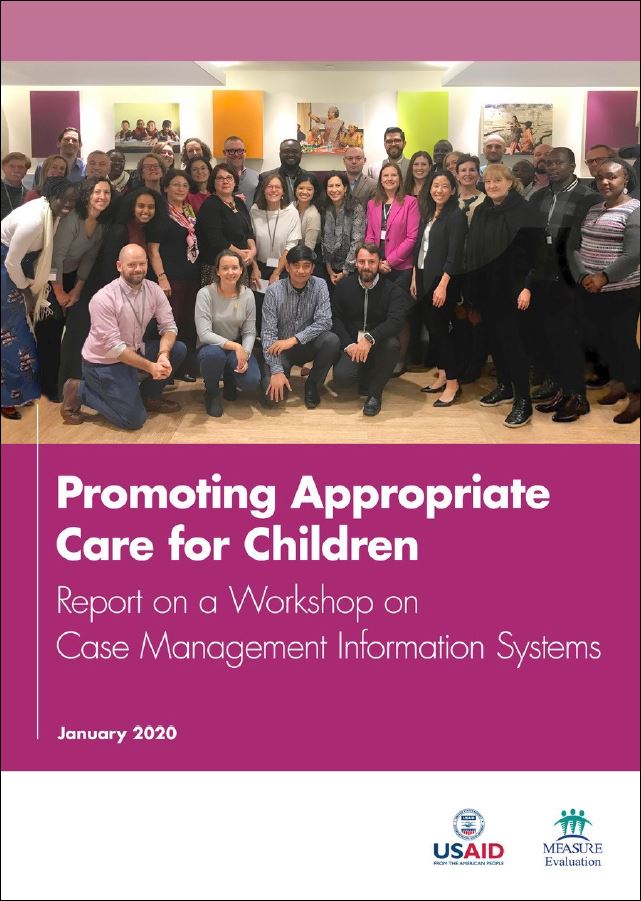 Citation: MEASURE Evaluation. (2020). Promoting Appropriate Care for Children: Report on a Workshop on Case Management Information Systems. Chapel Hill, NC, USA: MEASURE Evaluation, University of North Carolina
Abstract
:
The United States Agency for International Development (USAID) works in countries around the world to improve the lives of the worlds most vulnerable children in keeping with the three objectives established in the U.S. government strategy for Advancing Protection and Care for Children in Adversity (APCCA). Those objectives are to build strong beginnings, put family first, and protect children from violence (https://www.childreninadversity.gov). In support of key country priorities and in line with APCCA objectives, USAID/DCOF-funded activities focus on assisting families to better care for their children, reforming national systems for childrens care, strengthening child welfare and protection policies, and developing and operationalizing the local systems needed to sustain program efforts. In March 2017, USAID/DCOF engaged the USAID-funded MEASURE Evaluation (MEval) project to build on and reinforce current USG programming on child care and protection in four focus countries: Armenia, Ghana, Moldova, and Uganda. MEval works globally to strengthen country capacity to gather, analyze, and use data for decision making to improve sector outcomes. The overall goal of this USAID/DCOF-funded activity is to intensify country leadership in advancing national efforts on behalf of children who lack adequate family care, that is, national care reform. MEval is working to strengthen the capacity of government partners to accomplish the following:


Provide leadership in implementing a structured assessment of national care reform systems and strategies using a standardized framework/tool.


Identify gaps and continuing needs in care reform.


Develop plans to address priority needs.


Establish indicators and systems for the regular assessment of progress and monitoring of results against country plans for care reform.


Efforts to build digital information systems have been made in the four focus countries, with lessons learned about what is working well and what can be strengthened. In light of the increased interest in advancing digital solutions for the case management1 of children in various settings, USAID/DCOF asked MEval to convene a group of experts from December 46, 2019, at Palladiums office in Washington, DC, on case management information systems (CMIS).This report outlines the workshop sessions and provides highlights, key discussion points, and action items.
Access Ignite presentations from the workshop.
Shortname: ws-20-57
Author(s): MEASURE Evaluation
Year: 2020
Language: English
Region(s):