Estimating the Effects of COVID-19 on Immunization Services Use in Bangladesh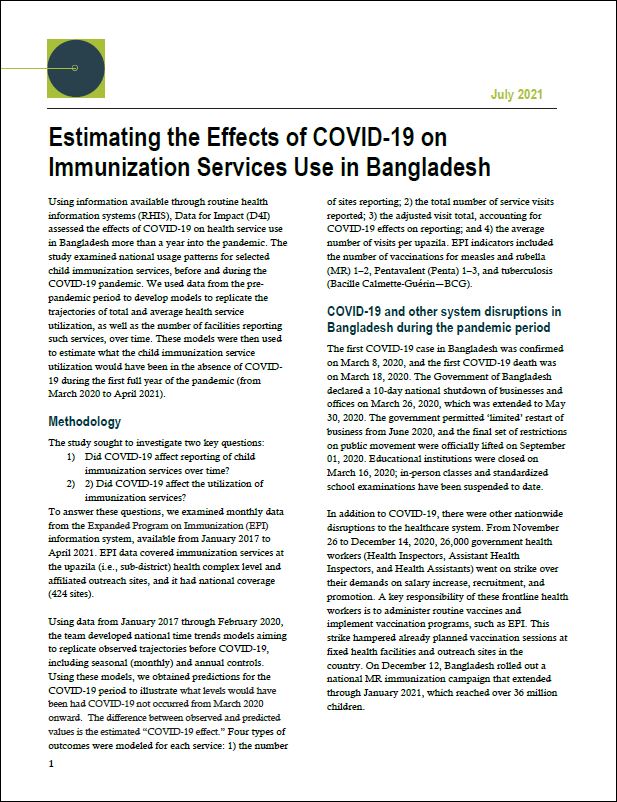 Abstract: Using information available through routine health information systems (RHIS), Data for Impact (D4I) assessed the effects of COVID-19 on health service use in Bangladesh more than a year into the pandemic. The study examined national usage patterns for selected child immunization services, before and during the COVID-19 pandemic. We used data from the pre-pandemic period to develop models to replicate the trajectories of total and average health service utilization, as well as the number of facilities reporting such services, over time. These models were then used to estimate what the child immunization service utilization would have been in the absence of COVID-19 during the first full year of the pandemic (from March 2020 to April 2021). This brief shares more.

We are grateful to the Directorate General of Health Services (DGHS) and, in particular, Dr. Md. Shamsul Haque, Line Director of Maternal, Newborn, Child and Adolescent Health (MNCAH), and Dr. Md. Tanvir Hossen, Deputy Program Manager, EPI & Surveillance. We also thank Bill Weiss at USAID for providing suggestions and technical support to this work.
Shortname: fs-21-528-d4i
Author(s): Gustavo Angeles, Hannah Silverstein, Karar Zunaid Ahsan, Mohammad Kibria, Nibras Ar Rakib, Gabriela Escudero
Year: 2021
Language: English
Region(s): BANGLADESH