Care Reform Workshop Report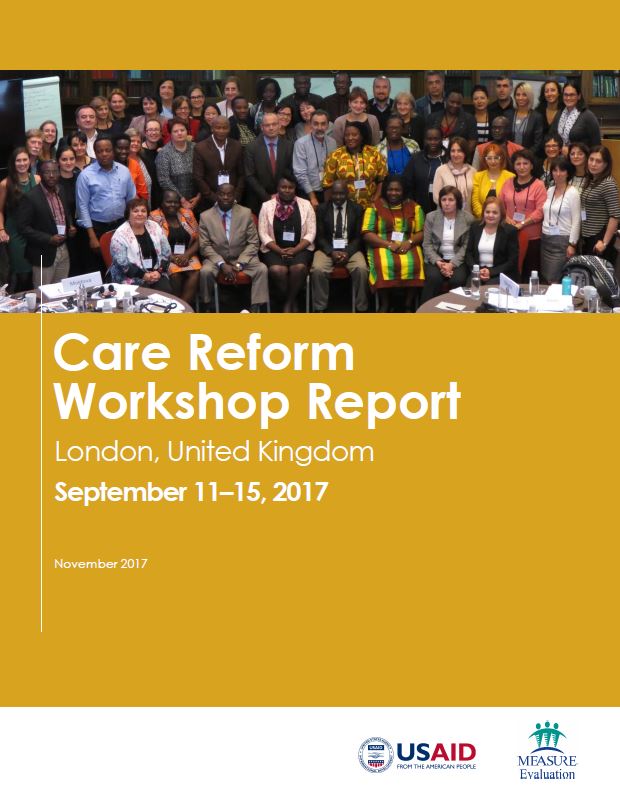 Abstract
:
The United States Agency for International Development (USAID) Displaced Children and Orphans Fund (DCOF) works in countries around the world to improve the safety, well-being, and development of vulnerable children, with particular attention to preserving and facilitating their access to appropriate, protective, and permanent family care. USAID/DCOF has engaged USAID-funded MEASURE Evaluation (MEval) to build on and reinforce current U.S. government programming on child care and protection in four countries: Armenia, Ghana, Moldova, and Uganda. MEval works globally to strengthen country capacity to gather, analyze, and use data for decision making to improve sector outcomes.
The overall goal of this USAID/DCOF-funded activity is to intensify country leadership in advancing national efforts on behalf of children who lack adequate family care: that is, national care reform. Throughout the activity, MEval will promote learning across the four collaborating countries. As a part of this learning and collaboration, MEval held a five-day workshop in London with representatives from each of the four countries.
The workshop provided participants with an opportunity to share experiences in national care reform strategies; learn from leading international experts in care reform from Lumos, Better Care Network, Childs i Foundation, Hope and Homes for Children, and Family for Every Child; review and begin adaptation of the self-assessment tool; and participate in M&E capacity building sessions in the areas of data demand and use, M&E basics and indicator development, and M&E system strengthening.
Shortname: ws-17-39
Author(s): MEASURE Evaluation
Year: 2017
Language: English
Region(s):