Appraisal of Family Planning Commodities Management during the COVID-19 Crisis in Gandaki Province, Nepal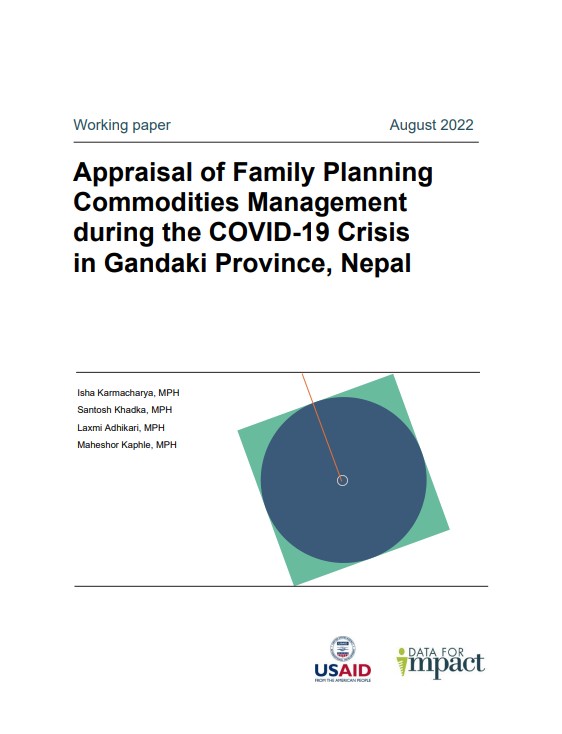 Abstract: Background: Family planning (FP) is an integral part of the Government of Nepal's (GoN) national health strategy and Ministry of Health and Population (MoHP) programs. The MoHP's Family Health Division is committed to implementing targeted strategies and interventions that enable the country to continue to increase access to and use of rights-based, high-quality FP information and services, with a particular focus on serving the poor, vulnerable, and marginalized populations. However, the COVID-19 threats followed by a nationwide lockdown have weakened all aspects of Nepal's health system, including access to FP commodities and services.

Study Objective: The main objective of this study was to assess FP commodities procurement, supply chain and stock management at Gandaki Province and local levels during the COVID-19 pandemic emergency to determine if there were any variations in FP commodities procurement,
supply chain, stock management, and service delivery.

Methods: The study was conducted in Gandaki Province, employing quantitative and qualitative methods. For the quantitative part of the study, we obtained secondary data from the Provincial Health Logistic Management Center (PHLMC) and Provincial Health Directorate for all 11 districts of the province on FP commodities and stock management from mid-January to mid-April 2020 (before the COVID-19 crisis) and mid-April to mid-July 2020 (during the COVID-19 crisis). We conducted 17 key informant interviews (KIIs) to obtain qualitative data from central, provincial, district, and local government health staff. We performed descriptive data analysis to assess FP procurement, supply chain, and stock management changes due to the COVID-19 crisis.

Results: The process of procuring FP commodities was the sole responsibility of the central level government. The commodities that were previously overstocked, such as male condoms, COCs, and injectables, were understocked during the pandemic. The most-preferred FP methods during the pandemic were short-acting methods like condoms and combined oral contraceptive pills (COCs) because of less personal interaction involved in accessing the methods. At the same time, there was a reduction in new users of modern methods (COCs, implant, intrauterine contraceptive device [IUCD], and permanent methods), aside from injectables, which had slightly increased. The quantity of male condoms supplied also decreased.

No specific strategies for FP commodities management were formulated at the provincial level. However, district-level governments attempted to address FP challenges caused by the pandemic by installing mobile and satellite clinics, augmenting human resources, sending FP commodities with
the vehicles that transported COVID-19 safety commodities, and shifting the use of long-acting methods to short-acting methods. Professionals working in the FP sector felt the need to maintain a proper stock of FP commodities and strengthen their monitoring, documentation, and system management. The central level, with the U.S. Agency for International Development's (USAID)
support, performed monitoring that helped the provinces keep track of the commodities supply and stock.

Conclusion: FP commodities management and service utilization were affected by the COVID-19 pandemic. Accessing difficult-to-reach places with FP commodities was coordinated via the supporting organizations in those areas. Regular rapid assessments and enforcement of remedial measures are needed for the health supply chain, procurement system, and stock management.
Shortname: WP-22-257 D4I
Author(s): Isha Karmacharya, MPH; Santosh Khadka, MPH; Laxmi Adhikari, MPH; Maheshor Kaphle, MPH
Year: 2022
Language: English
Region(s): NEPAL