Supporting Countries to Measure Progress and Outcomes of National Care Reforms Development Care System Reform Logic Model and Indicator Mapping Activity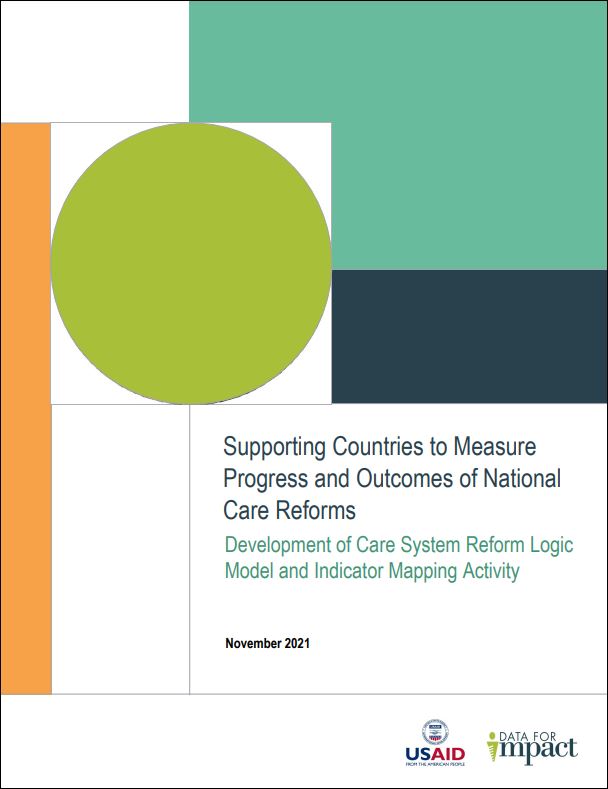 Abstract: Globally, countries are striving to reform their child protection and care systems to ensure appropriate care for children without or at risk of losing parental care.

The reforms are also informed by growing evidence illustrating the benefits of family-based care on children's development and the negative impacts of residential care. However, there is a lack of a shared conceptual and measurement framework to guide planning and enable decision makers to accurately track progress and performance in strengthening national care systems, evaluate impact, and ensure accountability at country and global levels. Because of this, the D4I team has undertaken a review of existing measurement frameworks and tools and has developed a draft logic model and mapped global and national indicators to the model. The logic model draws heavily on existing guidance and research evidence on care reform. The logic model and indicators are expected to inform efforts to measure the progress and outcomes of reforming care systems.

The D4I team elicited feedback on the draft logic model and indicators from key stakeholders including representatives from U.S. Agency for International Development (USAID), United Nations Children's Fund (UNICEF), the Better Care Network (BCN), and the Global Social Service Workforce Alliance (GSSWA). In addition, it was presented to and revised based on feedback from the Evidence for Impact Working Group. This group, chaired by representatives of the Better Care Network and Lumos Foundation, brings together researchers, measurement experts, and practitioners working on establishing data systems on children's care to foster a strategic and well-coordinated approach to research and data in the sector, with a focus on generating and applying "evidence for impact" on policy, systems, and practice globally. D4I has worked closely with this working group to advance the overall measurement framework by capturing existing indicators and data sources and collectively identifying gaps.
Shortname: TR-21-450 D4I
Author(s): Data for Impact
Year: 2021