Quick Investigation of Quality: A User's Guide for Monitoring Quality of Care in Family Planning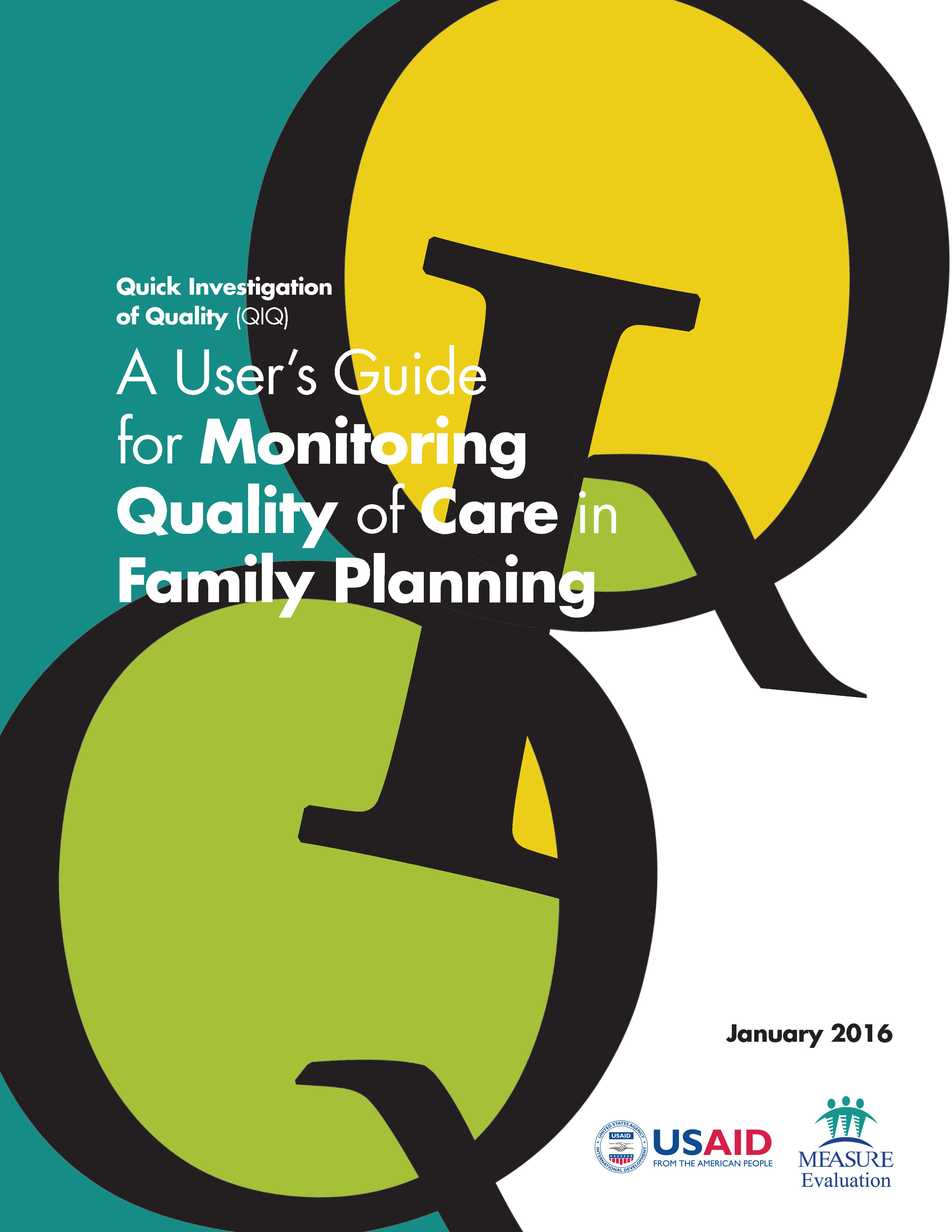 Citation: MEASURE Evaluation. (2016). Quick investigation of quality (QIQ): a users guide for monitoring quality of care in family planning (2nd ed.). Chapel Hill, North Carolina: MEASURE Evaluation, University of North Carolina.
Abstract: This users guide contains materials needed to design and implement the Quick Investigation of Quality (QIQ) in a given country. QIQ refers to the set of three related data collection instruments designed to monitor 25 indicators of quality of care in clinic-based family planning programs.

This volume offers an overview of the QIQ (objectives, a short list of indicators, and methodological and ethical issues), guidelines for sampling and training of field personnel, instruments and guidelines for data collection, and summary results from the short list of indicators (tabular and graphic forms). Developed with funding from the USAID Office of Population, this method provides a low-cost, practical means to routinely monitor quality of care in family planning and other reproductive health services. USAID missions can use it in the R4 process, as can other organizations interested in tracking quality.

MEASURE Evaluation, working in collaboration with members of the Monitoring and Evaluation Subcommittee of the Maximizing Access and Quality (MAQ) initiative assumed the lead role in developing and testing this method in five countriesEcuador, Morocco, Turkey, Uganda, and Zimbabwe.
Shortname: ms-15-104
Author(s): MEASURE Evaluation
Year: 2016
Language: English
Region(s): Africa, Asia, Global