Pilot-Testing a Gender-Integrated Routine Data Quality Assessment Tool in Zambia: Summary of the Results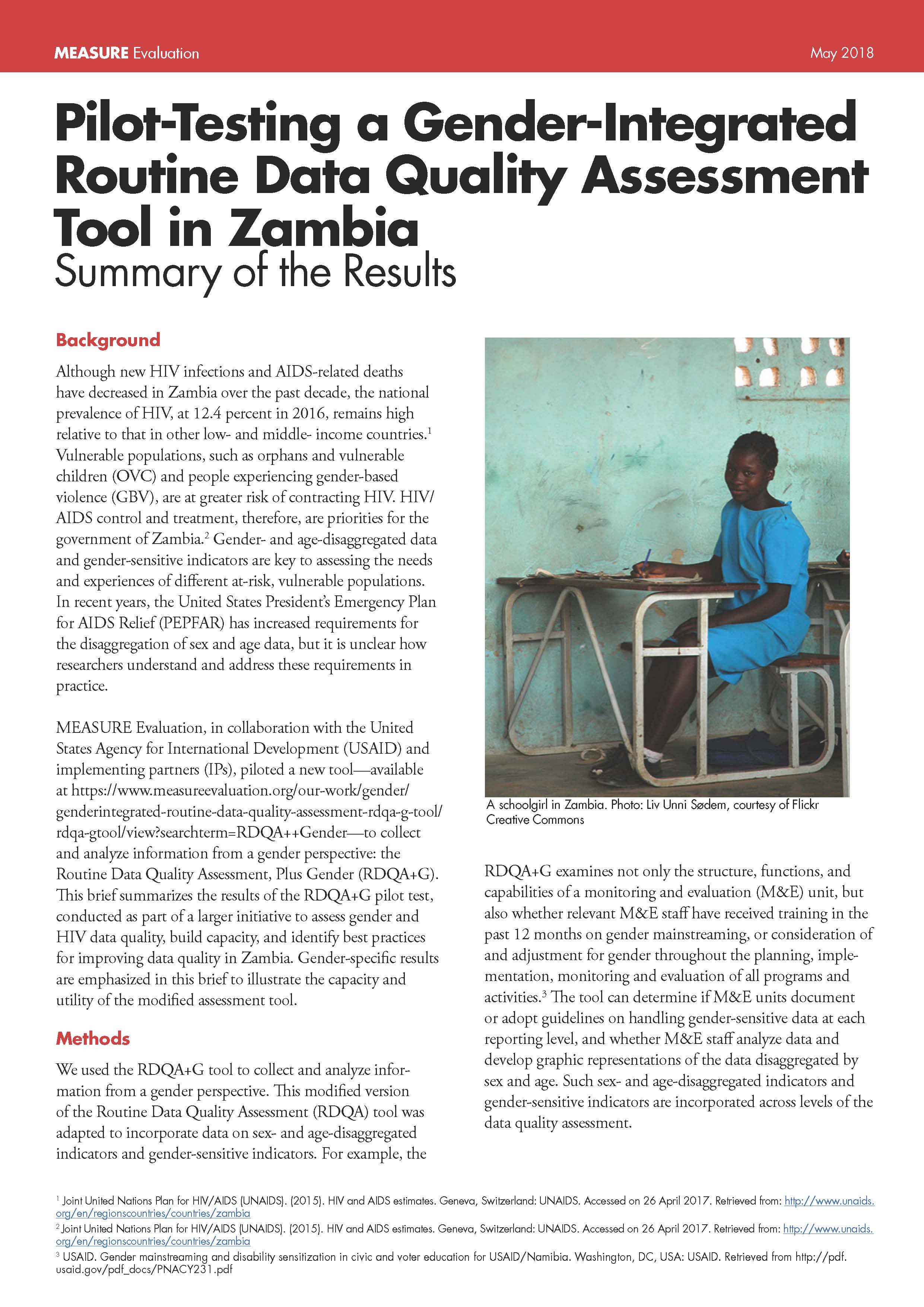 Abstract
: The prevalence of HIV remains high in Zambia relative to that in other low- and middle- income countries. Vulnerable populations, such as orphans and vulnerable children and people experiencing gender-based violence, are at greater risk of contracting HIV. Gender- and age-disaggregated data and gender-sensitive indicators are key to assessing the needs and experiences of different at-risk, vulnerable populations.
In recent years, the United States Presidents Emergency Plan for AIDS Relief has increased requirements for the disaggregation of sex and age data, but it is unclear how researchers understand and address these requirements in practice. MEASURE Evaluation, in collaboration with the United States Agency for International Development and implementing partners, piloted a new tool to collect and analyze information from a gender perspective: the Routine Data Quality Assessment, Plus Gender (RDQA+G)
https://www.measureevaluation.org/our-work/gender/gender-integrated-routine-data-quality-assessment-rdqa-g-tool/gender-integrated-routine-data-quality-assessment-rdqa-g-tool
This brief summarizes the results of the RDQA+G pilot test, conducted as part of a larger initiative to assess gender and HIV data quality, build capacity, and identify best practices for improving data quality in Zambia. Gender-specific results are emphasized in this brief to illustrate the capacity and utility of the modified assessment tool.
Shortname: fs-18-274
Author(s): MEASURE Evaluation
Year: 2018
Language: English
Region(s): ZAMBIA