Malawi Secondary Education Expansion for Development (SEED) Impact Evaluation: Baseline Report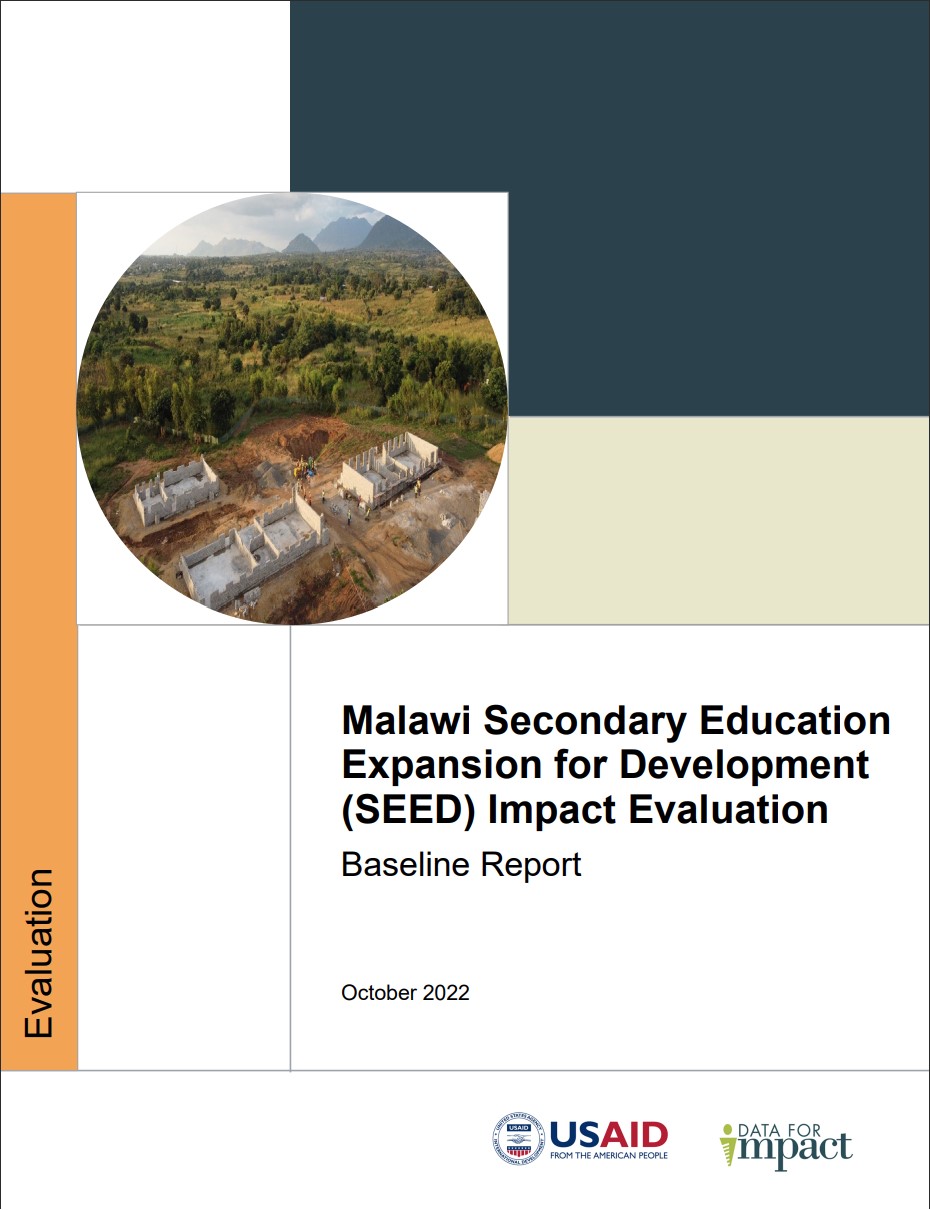 Citation: Gustavo Angeles, Chrissie Thakwalakwa, Kristen Brugh, Jessica Fehringer, Esme Kadzamira, Tawonga Mwase-Vuma, Dadirai Mkombe, Milissa Markiewicz, Liz Millar, Mat Mainwaring, Becky Wilkes, and Ting Chen (2022). Malawi Secondary Education Expansion for Development (SEED) Impact Evaluation Baseline. Chapel Hill, NC, USA: Data for Impact
Abstract
: The Malawi Secondary Education Expansion for Development (SEED) activity is a $90,000,000 commitment from USAID and PEPFAR for urban expansion and rural construction of Community Day Secondary Schools (CDSSs). Data for Impact (D4I) is conducting an evaluation of the SEED activity to understand whether there is an impact on communities where SEED is conducting expansion and construction of CDSSs.
This mixed methods impact evaluation covers a broad range of development outcomes, including the impact of SEED for children enrolled in Standard 7 in primary schools at baseline in rural SEED CDSS catchment areas on educational outcomes; sexual behaviors; water, sanitation, and hygiene behaviors; and child safety and violence.
We recruited Standard 7 students (n=761) from 32 rural primary treatment schools that will feed into new rural CDSSs, as well as from 32 rural comparison primary schools outside the catchment area of new CDSSs. To measure the pre-intervention primary to secondary school transition rate, we surveyed a retrospective cohort of students (n=599) enrolled in Standard 8.
In rural and urban areas, focus group discussions (FGDs) were held with students and caregivers and key informant interviews (KIIs) with community leaders. We also conducted in depth interviews with students and KIIs with teachers in urban areas.
We found acceptable balance in 94.9 percent of assessed quantitative variables. Rural qualitative findings mirrored those from the quantitative survey. Urban findings showed perceived positive outcomes resulting from SEED urban, including a conducive learning environment, and reduced absenteeism among girls. Some unintended outcomes were noted by urban respondents, such as expanded enrollment and increased teacher workloads.
Access a related summary report and graphic briefs
.
Shortname: tre-23-34-d4i
Author(s): Gustavo Angeles, Chrissie Thakwalakwa, Kristen Brugh, Jessica Fehringer, Esme Kadzamira, Tawonga Mwase-Vuma, Dadirai Mkombe, Milissa Markiewicz, Liz Millar, Mat Mainwaring, Becky Wilkes, and Ting Chen
Year: 2022
Language: English
Region(s): MALAWI