Madagascar IMPACT Activity (Improving Market Partnerships and Access to Commodities Together) Midterm Evaluation Report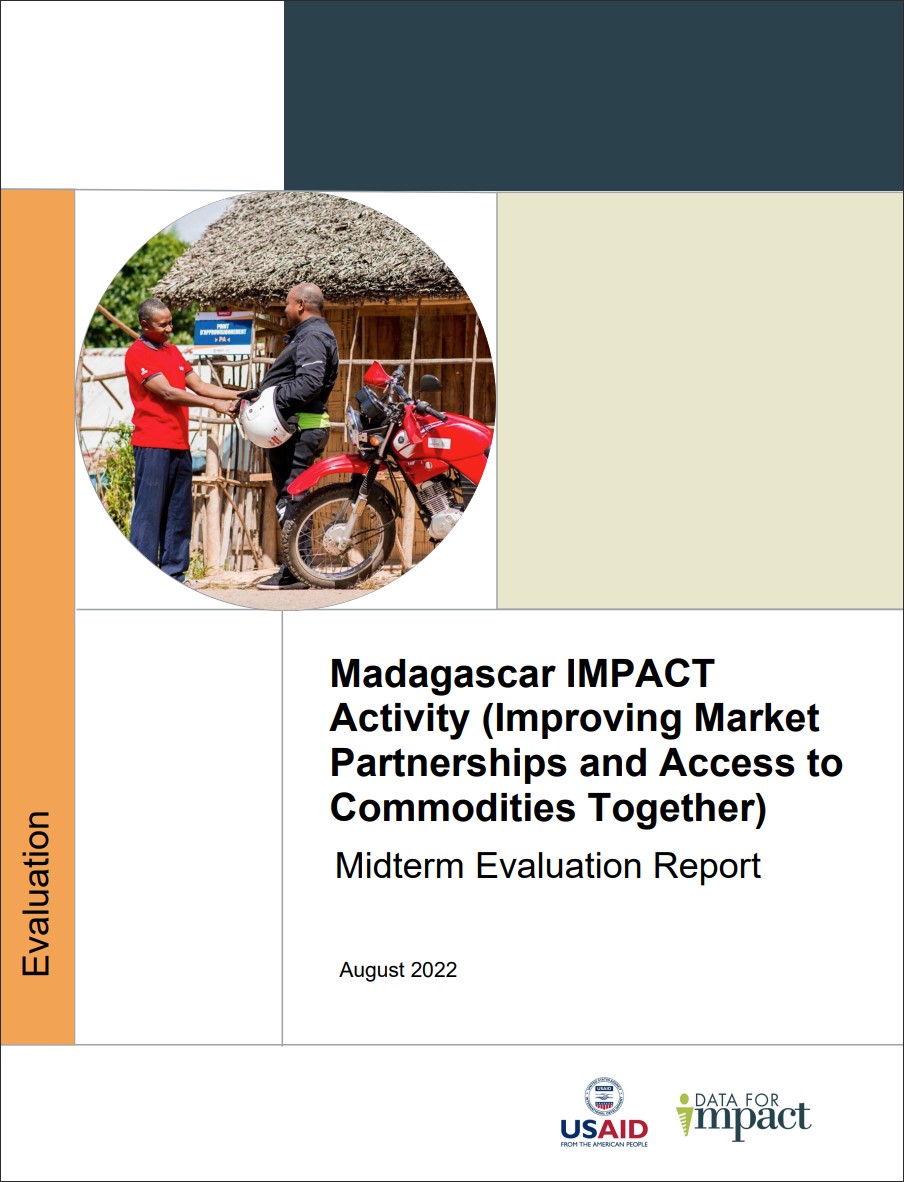 Citation: Bergson, S., Indriamihaja, O.C., Moonzwe, L., Koch, R., Mohamed, N.S., & Tarrant, A. (2022). Madagascar IMPACT Activity (Improving Market Partnerships and Access to Commodities Together) Midterm Evaluation Report, Chapel Hill, NC, USA: Data for Impact
Abstract: This midterm evaluation examined the progress of the Improving Market Partnerships and Access to Commodities Together (IMPACT) program to identify promising approaches and ongoing challenges, and to provide recommendations for the remainder of the program implementation period. The evaluation focused on three questions:

1. What is the effect of IMPACT's total market approach (TMA) on improving the availability and accessibility of quality health products to the Malagasy people?

2. Which of the IMPACT implementation approaches and activities appear to be the most promising and should be prioritized in the final two years of promoting the TMA? For those that are not showing promise, what alternatives or complementary options should be considered?

3. To what extent is there national ownership/stewardship of the TMA? How has the IMPACT program contributed to this degree of national ownership?

The evaluation used a mixed methods approach, including primary data collection through an online survey, key informant interviews, and focus group discussions; secondary review of program documents; and secondary analysis of existing data collected from program documents and routine monitoring activities. The data suggested that IMPACT was achieving its intended objectives and intermediate results related to enhanced coordination, strengthened capacity, and expanded engagement. The data also indicated that logistics, logistics management information system, and supply chain management issues continued to plague the program, resulting in continued and harmful stockouts or stock mismanagement issues, thereby inhibiting the potential success of innovative demand creation activities and,
ultimately, bringing limited access to health products. Key recommendations include prioritizing the transition of stewardship and responsibility, renewing the understanding of a TMA approach with stakeholders, improving engagement of the private sector, transitioning social marketing activities, and increasing demand for health products.
Shortname: TR-22-489-D4I
Author(s): Bergson, S., Indriamihaja, O.C., Moonzwe, L., Koch, R., Mohamed, N.S., & Tarrant, A.
Year: 2022
Language: English
Region(s): MADAGASCAR