Discontinuation of Contraceptive Intrauterine Devices and Implants in Bangladesh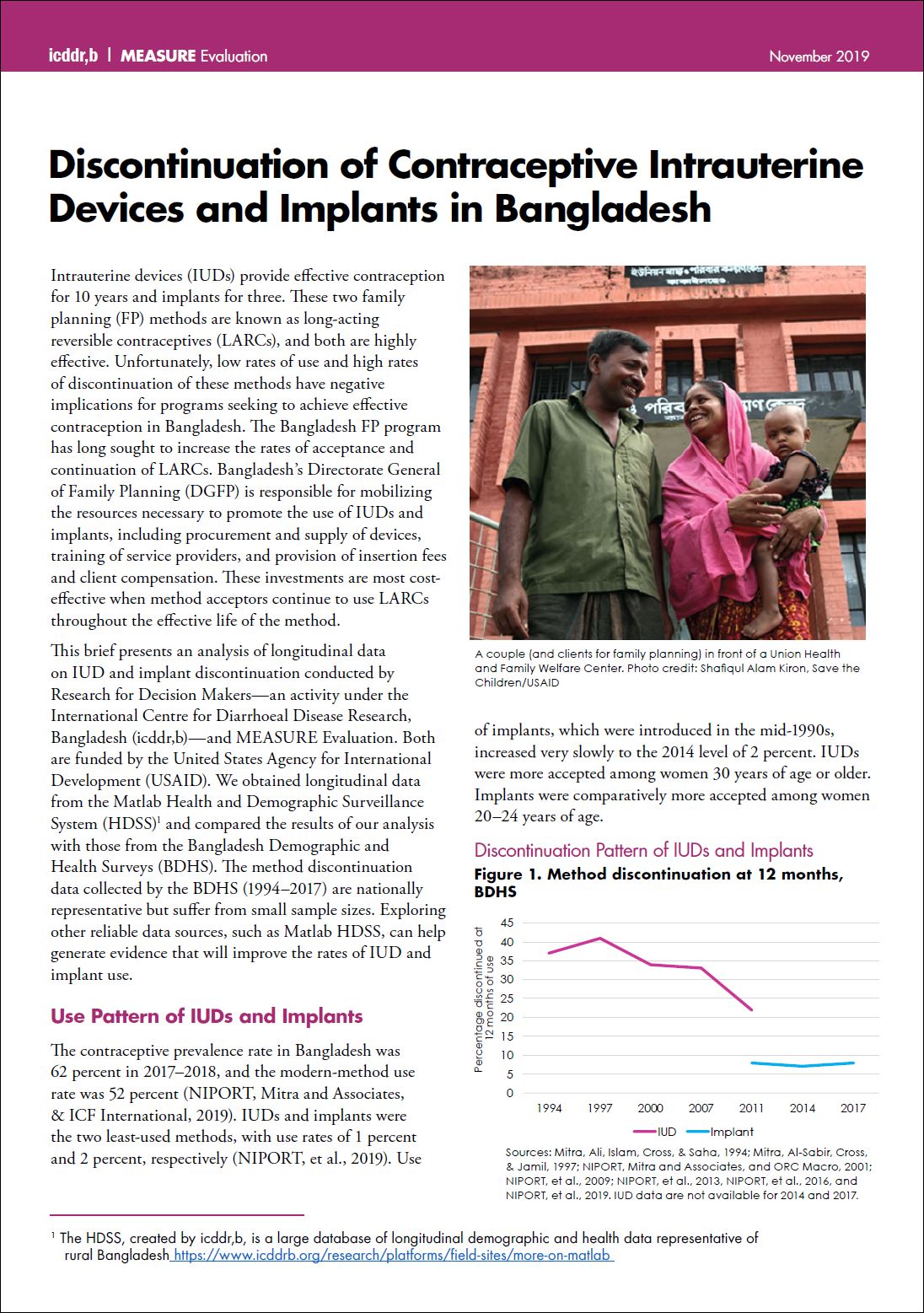 Abstract: Intrauterine devices (IUDs) provide effective contraception for 10 years and implants for three. These two family planning (FP) methods are known as long-acting reversible contraceptives (LARCs), and both are highly effective. Unfortunately, low rates of use and high rates of discontinuation of these methods have negative implications for programs seeking to achieve effective contraception in Bangladesh. The Bangladesh FP program has long sought to increase the rates of acceptance and continuation of LARCs. Bangladeshs Directorate General of Family Planning (DGFP) is responsible for mobilizing the resources necessary to promote the use of IUDs and implants, including procurement and supply of devices, training of service providers, and provision of insertion fees and client compensation. These investments are most costeffective when method acceptors continue to use LARCs throughout the effective life of the method.

This brief presents an analysis of longitudinal data n IUD and implant discontinuation conducted by Research for Decision Makersan activity under the International Centre for Diarrhoeal Disease Research, Bangladesh (icddr,b)and MEASURE Evaluation. Both are funded by the United States Agency for International Development (USAID). We obtained longitudinal data from the Matlab Health and Demographic Surveillance System (HDSS)1 and compared the results of our analysis with those from the Bangladesh Demographic and Health Surveys (BDHS). The method discontinuation data collected by the BDHS (19942017) are nationally representative but suffer from small sample sizes. Exploring other reliable data sources, such as Matlab HDSS, can help generate evidence that will improve the rates of IUD and implant use.
Shortname: fs-19-404
Author(s): MEASURE Evaluation, International Centre for Diarrhoeal Disease Research, Bangladesh (icddr,b)
Year: 2020
Language: English