Data Quality Assessment (DQA) for HIV Program Indicators in Burundi: Final Report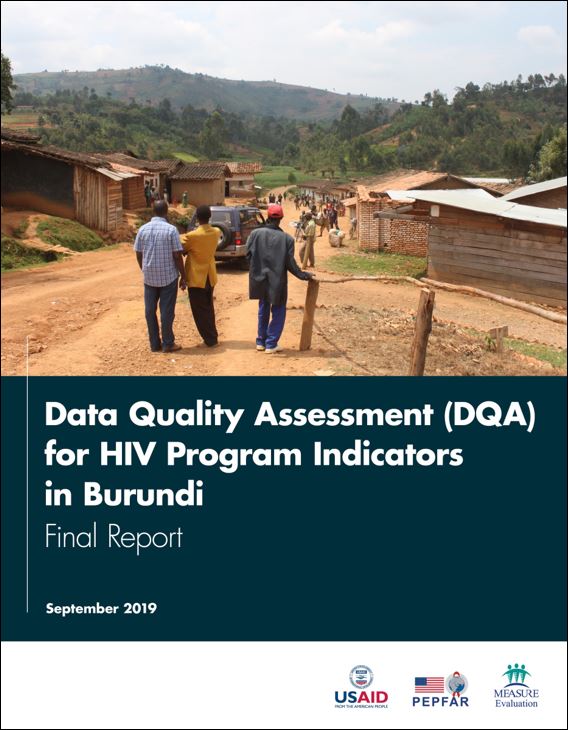 Citation: Boone, D., Bisore, S., Hypax, M. Rwantabagu, J.P., & Ly, M. (2019). Data Quality Assessment (DQA) for HIV Program Indicators in Burundi. Chapel Hill, NC, USA: MEASURE Evaluation, University of North Carolina
Abstract: The Office of HIV/AIDS at the U.S. Agency for International Development (USAID) has allocated resources to address the data quality of HIV and AIDS indicators through the MEASURE Evaluation project. The Programme National de Lutte Contre le SIDA et les Infections Sexuellement Transmissibles (PNLS/IST) (National HIV/AIDS Control Program in Burundi) and other donors and partners have also contributed resources to assessing and improving data quality for HIV in Burundi. A joint effort was made to plan and implement a joint data quality assessment (DQA) of 80 percent of the patients active on treatment in Burundi. This report summarizes the findings of the DQA and provides recommendations for follow-up.

The primary objective of the DQA was to investigate data quality issues concerning the number of people currently receiving antiretroviral therapy (ART) at a sample of health facilities representing 80 percent of patients actively on treatment in Burundi. The activity aimed to improve the accuracy and reliability of future data submissions to PEFPAR and the Ministry of Health (MOH). The assessment follows a pilot test in November 2018 to validate new assessment tools and methods. The assessment aimed to validate reported values for priority indicators at 147 sites, including sites supported by the U.S. Presidents Emergency Plan for AIDS Relief (PEPFAR).

In addition, the assessment aimed to validate a proposed methodology for evaluating the quality of data in source documents, and program quality indicators. The so-called Lot Quality Assurance Sampling (LQAS) Triage System is a methodology to sample patient records within health facilities to gauge the completeness of the data, as well as the coherence of data between different data sources.

This report presents the findings of the assessment, which include systematic data quality problems affecting Currently on ART (TX_CURR), Newly initiated on ART (TX_NEW), and Percentage of Viral Load Suppressed (TX_PVLS). The report provides recommendations for actions that can be undertaken independently to improve data quality.
Shortname: tr-19-371
Author(s): Boone, D., Bisore, S., Hypax, M. Rwantabagu, J.P., & Ly, M.
Year: 2019
Language: English