Characterizing Male Sexual Partners of Adolescent Girls and Young Women in Mozambique: Findings from Focus Group Discussions in Xai-Xai, Beira, and Quelimane Districts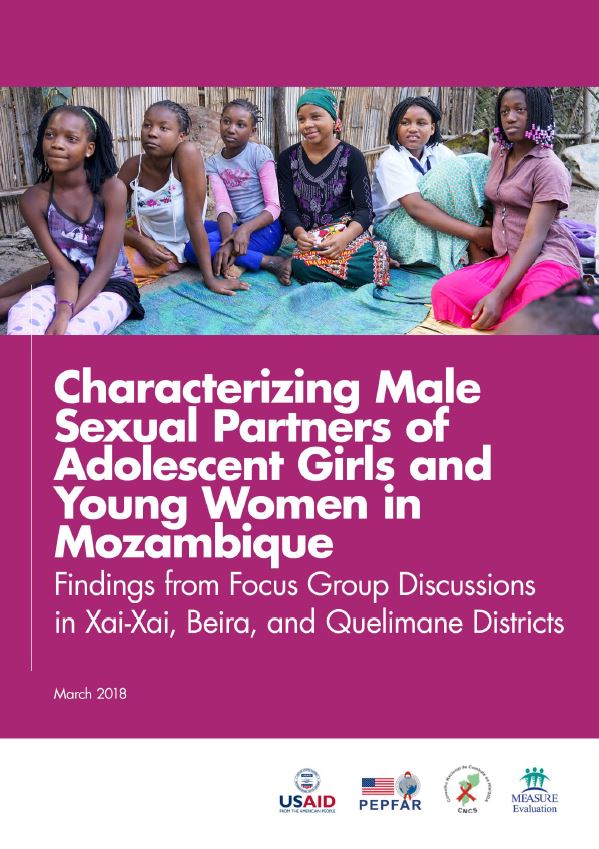 Abstract
: While a considerable amount of information is available on the factors that contribute to HIV risk for adolescent girls and young women (AGYW)in Mozambique, little is known about the characteristics of boys and men with whom AGYW engage in sexual activity and how AGYW form sexual partnerships. This knowledge is critical for targeting HIV services to this group of boys and men, and ultimately to reduce the spread of HIV and AIDS among AGYW. To address this knowledge gap, we undertook a study to answer the following research questions:


Who are the sexual partners of AGYW?


Is sexual risk-taking behavior (namely partner concurrency and unprotected sex) among AGYW and their male partners associated with certain sexual partner characteristics (such as age, education, employment, and income)?


We conducted a total of 15 focus group discussions (FGDs) with 102 AGWY ages 1524 years in three Mozambique locations: Quelimane, Beira, and Xai-Xai Districts. Each FGD averages six to eight participants; one had only four.
We sampled AGYW with diverse demographic characteristics (such as in-school/out-of-school, married/single, and mother/childless). Our study team convened a committee in each district to devise a recruitment strategy in each location. Local PEPFAR implementing partner organizations recruited study participants from health clinics, schools, and other locations in the community.
This report shares findings from the FGDs.Access the related
Characterizing Male Sexual Partners of Adolescent Girls and Young Women in Mozambique: Quantitative Results from Beira, Quelimane, and Xai-Xai Districts
resource.
Shortname: tr-18-234
Author(s): Nena do Nascimento, Ana Costa, Jenifer Chapman
Year: 2018
Language: English