2021 Provider Survey Results: Nigeria Health, Population, and Nutrition Multi-Activity Evaluation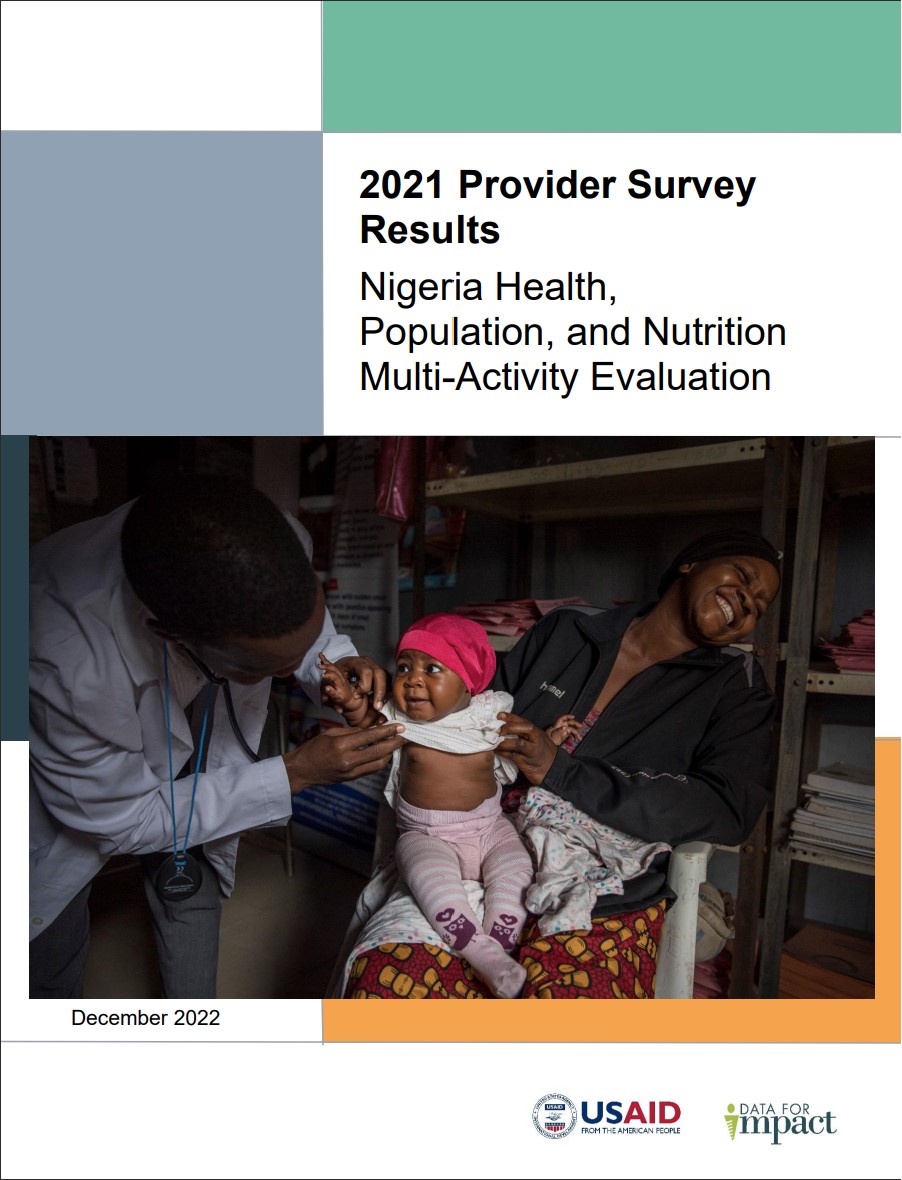 Citation: Brugh, K., Curtis, S., Adegbe, E., Fehringer, J., Markiewicz, M., and Luckett, B. (2022). 2021 Provider Survey Results: Nigeria Health, Population, and Nutrition Multi-Activity Evaluation. Chapel Hill, NC, USA: Data for Impact.
Abstract: This report presents the results of a health provider survey conducted by Data for Impact (D4I) as one component of a mixed methods outcome evaluation of four United States Agency for International Development (USAID)/Nigeria Health, Population, and Nutrition (HPN) activities. The four activities are the Integrated Health Project (IHP), the President's Malaria Initiative for States (PMI-S), Breakthrough ACTION - Nigeria (BA-N), and the Global Health Supply Chain Program – Procurement and Supply Management (GHSC-PSM). The objective of the health provider survey evaluation component is to provide evidence for health programming, with a focus on comparing an integrated health programming approach with a disease-focused approach (malaria).

An integrated approach (led by IHP) implements a fully integrated set of reproductive, maternal, newborn, and child health plus nutrition and malaria (RMNCH+NM) interventions as well as health system strengthening interventions. A disease-focused approach (led by PMI-S) addresses one health area only (malaria) and includes health system strengthening focused on that health area. In each state, both approaches also include demand creation (led by BA-N) and commodity procurement and distribution interventions (led by GHSC-PSM). The evaluation is being implemented in three case study states—Kebbi (integrated approach), Zamfara (disease-focused approach), and Ebonyi (combined approach with both IHP and PMI-S implementing).

The purpose of the survey, which will be conducted again at endline in 2025, is to assess whether provider knowledge, attitudes, and self-reported practices improve over time and whether that improvement varies depending on whether the focus of provider training is disease-focused (fever/malaria management) or more integrated (RMNCH+NM). The provider survey contributes to answering the evaluation question:

Did malaria and other health and service delivery outcomes improve more from baseline to endline in local government authorities (LGAs)/states where an integrated (IHP) approach was implemented, a disease-focused (PMI-S) approach was implemented, or a combination of the two?

Provider outcomes in malaria, child health, antenatal care, and family planning service areas were assessed. Non-malaria service areas serve as 'comparison' services for the purposes of the evaluation to allow examination of depth versus breadth in the changes in outcome levels by service areas seen in the two programming approaches.
Shortname: TR-23-503-D4I
Author(s): Kristen Brugh, PhD; Sian Curtis, PhD; Emmanuel Adegbe, PhD; Jessica Fehringer, PhD; Milissa Markiewicz, MPH; Brian Luckett, PhD
Year: 2023
Language: English
Region(s): NIGERIA
Filed under:
Evaluation
,
health outcomes
,
Health programs
,
HPN
,
IHP
,
Nigeria
,
programming
,
provider survey
,
Report
,
reports
,
Service delivery