Storytelling with Data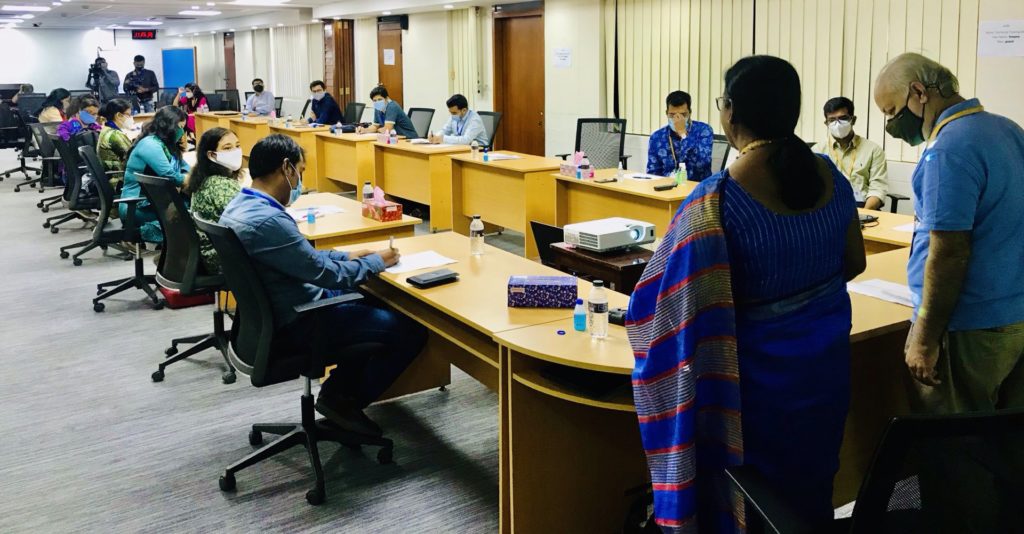 A unique initiative of Data for Impact (D4I) in Bangladesh involves data intensive sessions organized for health reporters on specific health, nutrition, and population topics. In each of these "Storytelling with Data" sessions, local technical experts share recent findings on a specific health topic. Reporters can ask questions and develop newsworthy stories using survey/study data, which helps promote evidence-based learning and data use in journalism.
The sessions are conducted in association with the Research for Decision Makers (RDM) activity of icddr,b.
Links to two Storytelling with Data events follow.
Pneumonia in Bangladesh: Where we are and what need to do
Short Description: Bangladesh has made significant progress in reducing child mortality and advancing the health sector in the past two decades. Despite that, about 24,300 children die from pneumonia in Bangladesh every year, which represents 18 percent of the total number of children dying before their fifth birthday. The Bangladesh Demographic and Health Survey (BDHS) 2017 found that only 42 percent of children under five with signs of lung infection were taken to a hospital/health facility and only 34 percent received an antibiotic. According to the Bangladesh Health Facility Survey (BHFS) 2017, 45 percent of the pneumonia-related deaths occur in health facilities, which strongly indicates a lack of readiness among health facilities to provide appropriate treatment for childhood pneumonia.
In observance of World Pneumonia Day (November 12, 2020), a Storytelling with Data session with the Bangladesh Health Reporters' Forum (BHRF) was held on November 11, 2020 to discuss the disease burden of pneumonia and ways to address pneumonia-related premature deaths in Bangladesh.
The event was jointly organized by D4I and the RDM activity of icddr,b with support from the United States Agency for International Development (USAID)/Bangladesh. Among the attendees were fourteen health journalists from eminent media houses, including Toufiq Maruf, President, BHRF; Zannatul Bakiya Keka, Vice President, BHRF; and Rashed Rabbi, General Secretary, BHRF.
At the event, technical experts Prof. Dr. Ruhul Amin, Paediatric Pulmonologist; Prof. Dr. Samir Saha of Child Health Research Foundation (CHRF); Dr. Mohammad Jobayer Chisti and Dr. Shams El Arifeen of icddr,b presented recent pneumonia findings and exchanged their views on ways to prevent these unfortunate deaths. Dr. Ahmed Ehsanur Rahman at icddr,b informed the audience that childhood pneumonia can largely be prevented through vaccination. The experts stressed that attention must be focused on improving the care seeking behaviors of parents and strengthening in-patient care, particularly involving effective triage and standard operating procedures. This will ensure that a sick child gets the right treatment at the right time while also investing in home grown solutions.
Scanned Copies of the Media Coverage
Prematurity in Bangladesh: Where we are and what we need to do
Short Description: Over the past few decades, Bangladesh has made significant strides in reducing newborn deaths. Data from the BDHS showed a declining trend in newborn deaths until 2014. However, the BDHS 2017-18 report shows this rate is increasing. In Bangladesh, 30 newborns out of 1,000 live births die. Nineteen percent of these deaths are due to premature birth and low birth weight (LBW).
A Storytelling with Data event with health reporters was held on February 3, 2021, at icddr,b in Mohakhali, Dhaka. The event, organized by D4I and the RDM activity of icddr,b, was part of an advocacy effort by USAID/Bangladesh to sensitize and encourage journalists to report on ways to reduce preventable deaths among children.
Prof. Mohammad Shahidullah, Chairman, National Technical Working Committee Neonatal Health, and Dr. Sayed Rubayet, Country Director, Ipas Bangladesh, presented during the session as technical experts. Dr. Ahmed Ehsanur Rahman, Associate Scientist of icddr,b, made the keynote presentation. The session was chaired by Dr. Shams El Arifeen, Senior Director, Maternal & Child Health Division (MCHD) of icddr,b. Fourteen health reporters from eminent media houses attended the session. Dr. Kanta Jamil, Senior Monitoring, Evaluation & Research, USAID/Bangladesh also attended the event.